Our offices are based at Methodist Richardson Cancer Center, which is conveniently located at the southeast corner of George Bush Turnpike (190) and Renner Road on the Methodist Richardson Medical Center Bush/Renner campus.
Methodist Richardson Radiation Oncology Associates
2805 E. President George Bush Turnpike
Richardson, TX 75082
Please make note of our new numbers.
Phone: 469-204-6100
Fax: 469-204-6141
For medical questions or to schedule an appointment, please call our office.
Office Hours
Monday – Friday
8 a.m. – 5 p.m.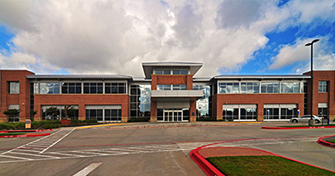 Methodist Richardson Cancer Center
Here is contact information for other facilities and specialists:
Methodist Richardson Medical Center
(main campus)
401 W. Campbell Road
Richardson, TX 75080
972-498-4000
Methodist Richardson Medical Center Bush/Renner (full-service ER)
2831 E. President George Bush Turnpike
Richardson, TX 75082
469-204-8000
Methodist Richardson Breast Surgeons
403 W. Campbell Road
Suite 102
Richardson, TX 75080
972-726-6230
View Map
Methodist Richardson Hematology Oncology Associates
2805 E. President George Bush Turnpike
Richardson, TX 75082
Phone: 469-204-6100
Fax: 469-204-6194